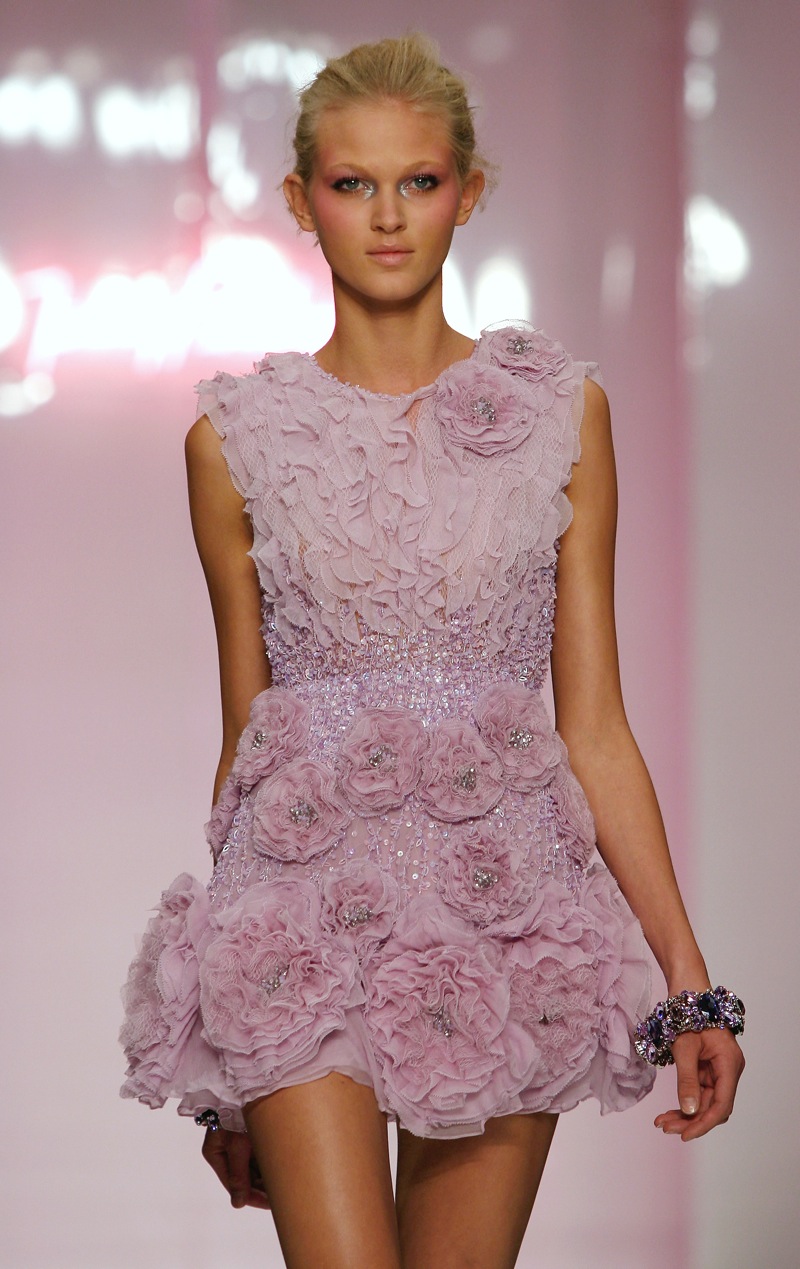 photo from coutorture.com; Jenny Packham, London Fashion Week, Spring/Summer 2009
Right after Easter, I gear up for the long-haul. April showers don't just bring May flowers…I prepare myself for a whirlwind of receptions, awards, graduation ceremonies, family gatherings, summer parties, and backyard barbeques. Don't let dressing up for these events get you down or stress you out. This spring, the hottest dresses are simply gorgeous. "Pretty in pink" is about to take on a whole new meaning. Grandmother-approved frocks in fairytale pink and beachside coral are adorned with chiffon, sparkle, lace, and ruffles to boot. Poofy, billowing dresses feature soft ruching and fabric flowers.
Unless it's prom night, stick to something short and sweet. A full length, flowing, bejeweled, ethereal gown is certainly award-show—or even wedding—worthy, but it is over-the-top for a school function or party where Bud Light and bratwursts will likely be served. Pick a mini-dress that hits above the knee. By choosing a shorter dress, onlookers will not be overwhelmed by the details, layered fabrics, and piled on jewels. A gown that covers you head-to-toe in silk flower petals would be a bit much, you know?
Everyday Wear:
Fancy, fairytale dresses are not for everyday wear—I don't bank on seeing too many shoppers on Mass Street ready for the Ball. Still, such extravagant dresses are perfect for special events, evening-wear, or even graduation ceremonies. When you slip into such a romantic, played-up dress you will feel like a million bucks. A princess.
Fantastical Dressing can be toned down. An everyday, more casual incorporation is perfectly doable. Pick one detailed, adorned, lacy, layered item and pair it with a more casual wardrobe staple. For example, wear a full, ruffled skirt with a fitted tank top and gladiator sandals. Or choose a ruffled, sparkly top—or one with very puffy sleeves—and pair it with your favorite going-out jeans and heels. You will instantly turn rocker-chic.
Also, depending on the dress, you might try throwing on a leather biker jacket and some sleek black boots for a little more edge and a little more wear out of your Cinderella dress.
Keep in mind that elements of this trend can be found in other runway fashions. If dressing like a princess makes you want to puke, look for other ways to jazz up a special-occasion dress. Grecian draping, one-shouldered tops, and bejeweled dresses are often all thrown in one fairytale dress, but these elements are unique and attention-grabbing on their own as well.
Check out Roberto Cavalli and Nina Ricci for more examples of ready-to-wear fairytale dresses.
Also, my favorite example right now is Jenny Packham's Spring/Summer 2009 ready-to-wear. She perfectly designs the short, fairytale dresses I crave.